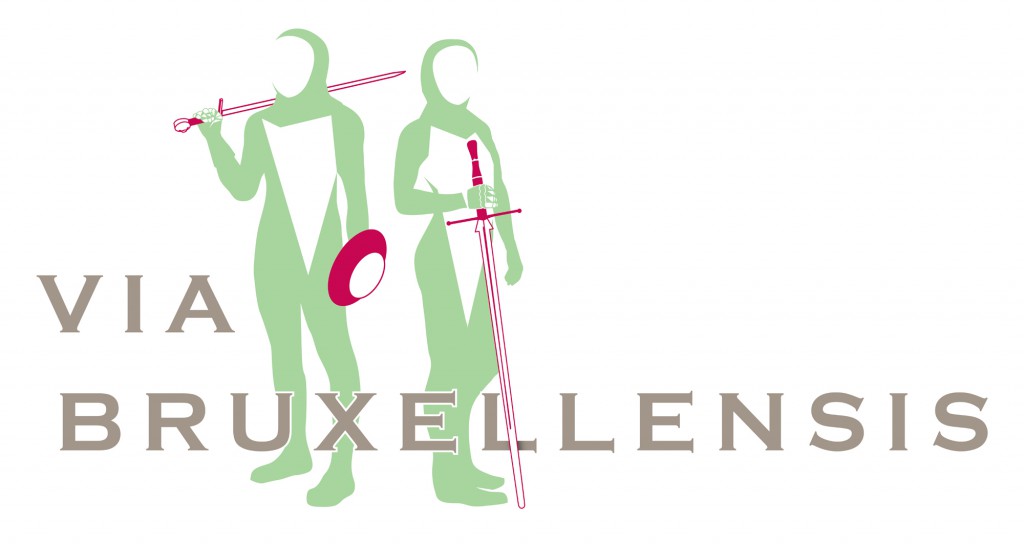 Via Bruxellensis, The Brussels Way
Historical European Martial Arts club (HEMA)
This club comes from the will of its founder to make Brussels also a place where HEMA can grow.
It is on 16 June 2015 that the first training of this new club occured, gathering a great number of people interested by such a topic, including persons with various experiences in HEMA, persons who had to travel far before that to find a place to practice it or persons who had to do it on their own, by themselves. Via Bruxellensis allowed them all to find a close place where to practice HEMA, in Brussels.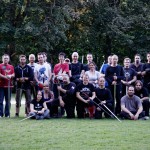 What is HEMA?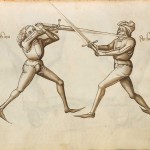 The Historical European Martial Arts (H.E.MA.) discipline consists of studying the fighting methods and fighting systems that existed on the European ground in his past, distant or close, on the base of historical sources, mostly using fighting treatises and fighting manuscripts left by masters or students back then.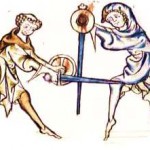 It covers a range of practices as wide and varied as the medieval fencing using longsword, using sword and buckler, dagger fighting, medieval wrestling or later fighting systems like Renaissance rapier, Sherlock Holmes era self defense system (bartitsu/bartisu) or even bayonet fencing as taught to World War 1 soldiers.
It is notable that what matters the most, is the process, which consists in picking a source and giving it a life. It can also be a non-European source should you fancy it.
So we could say we are doing Historical Martial Arts (HMA) – mostly European ones.
Our instructors take the time to share their approches and knwoledges about the different practices during our classes.
Delivered classes
Medieval longsword, from the 14th and 15th centuries, as it could have been practiced in the German tradition of Johannes Liechtenauer, including some analysis of wrestling and dagger techniques, all according to the unarmoured style of combat known as Blossfechten
Element of self-defense from late 19th and early 20th century, based on savate or French boxing, spiced up with techniques of wrestling, topped by cane fighting (or umbrella) as any gentleman or lady could have used against ruffians
Study of different saber combat systems – as an infantry weapon – from an array of sources across several regions and periods, starting with the classical Roworth
Wanna join?
Every person interested and curious about our club is welcome to give it a try for one or two sessions, they're welcome to join during any class, but not during UFC, we have spare equipment to lend for newcomers.
The minimum gear you must bring for a starter is a comfortable sports outfit.
The trainings are given in the school Notre Dame des Champs, 143 rue Edith Cavell – 1180 Uccle (close to many buses and trams). View of the school entrance along with its location on the map.
If after the two free sessions you want to go further, the subscription fees are 200 Euros for a whole year, everything included (insurance, training hall, etc.). The amount can be paid cash or can be wired to the club's account:  Via Bruxellensis – BE44 0689 3686 6645 .
Taking part to our training sessions implies that the practitioner will follow the club's charter: Charter of the practitioner.
To be noted, the training sessions are given in French and in English at the same time.
Classes structure
Our adult classes are made of 2 hours of practice. The first 90 mintues are instructor led on the topic planned for that class.
Knowing that Hirstorial European Martial Arts are about more than the few things we deliver in our classes, the last 30 minutes out of those 2 hours are called Workshop Time, a moment of free personal exploration for each and every member of the club, following what their heart desires – be it digging further on that class topic or try out any other practice of HEMA.
Classes end at the end of these 90 + 30 minutes.
Here is a visual summary of all activities offered by our club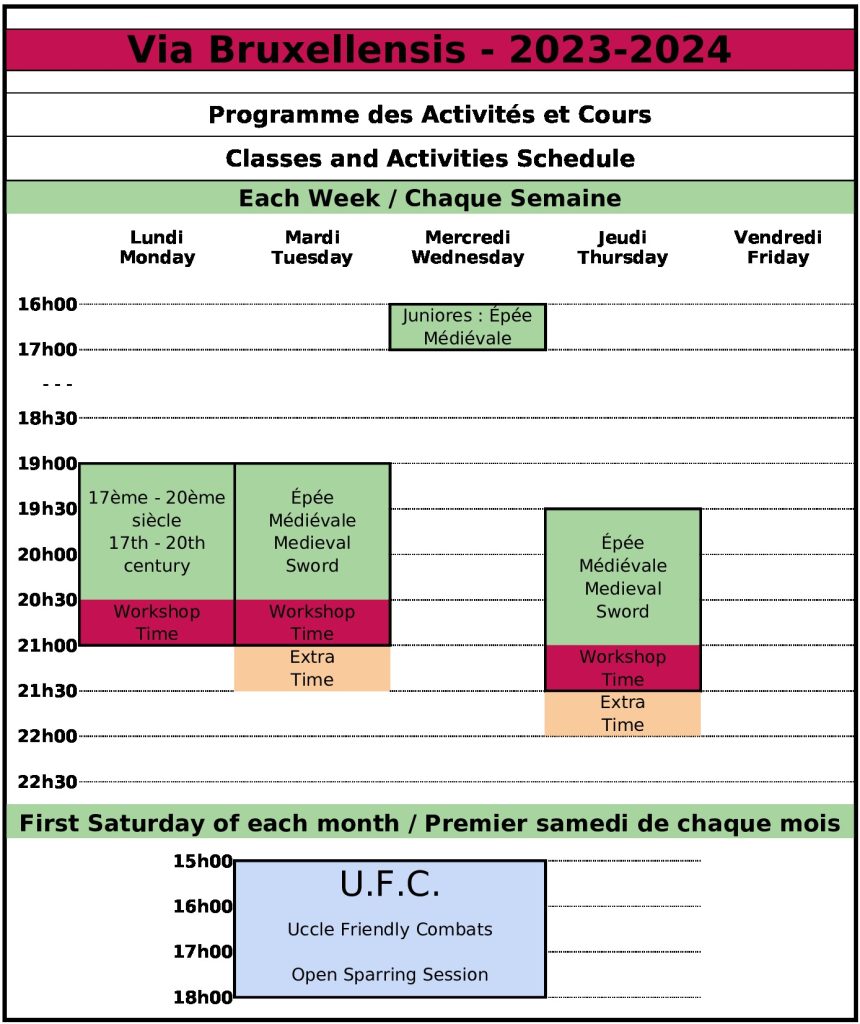 More than classes
You might have noted the Extra Time slots. Those are happening on top of classes times, after the closing salute. They are moment dedicated to social connections. Sit down, chit-chat, discussions – all while snacking and/or sipping on little somethings, brought in a potluck way, everyone bringing their little something. It is also an excellent time to keep on practicing should you prefer doing that instead.
On top of the weekly schedule, our club also organises a monthly meeting, each first Saturday of the month, a space of free practice, available for people of any club, en Open Sparring session: the U.F.C. for Uccle Friendly Combats.
Do you want to know more?
You can have a look at what we do through our pictures and videos in our galleries.
To have a visual idea of what it means to practice HEMA, you can also watch the following video links:
---
Federations

The SBSN is part of the International Federation for HEMA IFHEMA.


That opens up the gates to the trainings from that federations as well as from the ADEPS for the good quality of our trainers.
---
Official Equipment Partner
To provide to our members an easier access to a wide variety of equipments for the practice of our many HEMA, Via Bruxellensis has picked Black Armoury as their official equipment partner. You can find there a large array of protective equipment, weapon simulators and other accessories to ease the good unfolding of our practice (for more details, see the Gear chapter in the relevant page).
---
Partner Distributors
With the same idea, we have partnerships with other retailers as well.
Faits d'Armes is a French retailer offering a large array of equipment useful for the practice of HEMA. Our members can benefit from discounts using a discount code on their purchases (ask our staff for the code).
The Knight Shop is a UK retailer, from which we gladly purchased for years. Since Brexit and with the import taxes, we now sparsely purchase there but we still benefit from discounts.
---
Thokk Distributor
Via Bruxellensis also is an official distributor and retailer of Thokk gauntlets.
That makes them easier to get for anyone but even more for our members, who can get the gear at discounted price.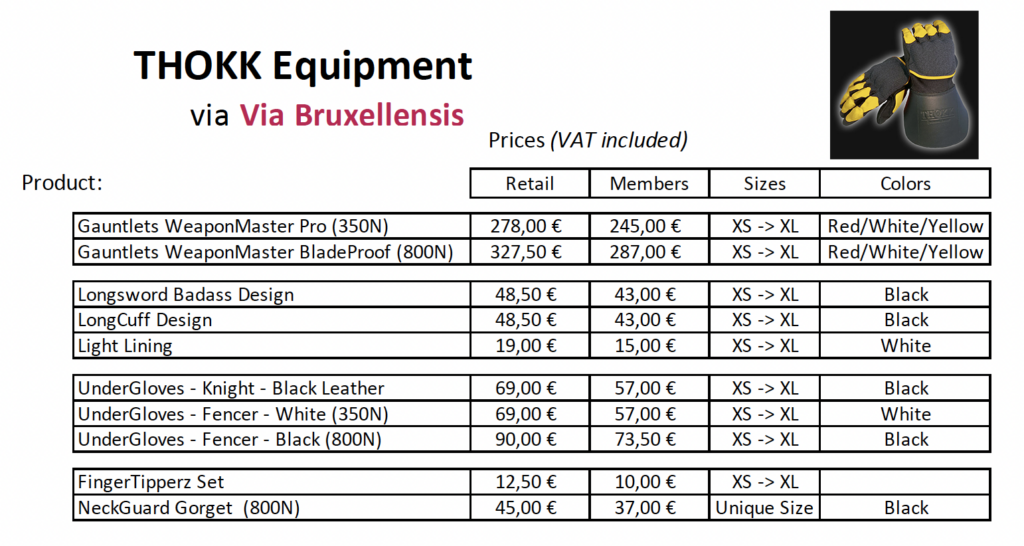 ---
The instructors
In the domain of HEMA, there is no instructor per se (strictly speaking). By definition, the only true owners of the martial knowledge are deceased a long time ago, so people nowadays are just a bunch of persons trying to rebuild and reenact the gesture as it could have been performed back then, and we do so using the historical evidences found.
So we're not in a structure with a "master" owning his knowledge and passing it to his "apprentices", we're all a group of apprentices trying to decode the knowledge of the master, Johannes Liechtenauer for instance. Each and everyone in the club may come with a training proposal in order to test an interpretation of a text so that everyone can work on it during a class.
Nevertheless, some more experienced members share the elements they already had the opportunity to practice to the newcomers not confident enough to work on the sources by themselves.
Members of the Board (nicknamed "the Small Council")
Eva Varagnolo
President and Instructor
She hesitantly pushed the door of the Via Bruxellensis room in December 2017 and was hooked from the first contact with the blade. Passionate about larp, married to a capoeirist, she favours the beautiful gesture to the strike at any cost. Concerned about details and the respect of the discipline while keeping a playful and friendly approach, she is also in charge of the Via Bruxellensis Juniores courses for children from 10 to 14 years old.
---
Benjamin Dal
Secretary/Master of Scrolls and Instructor
---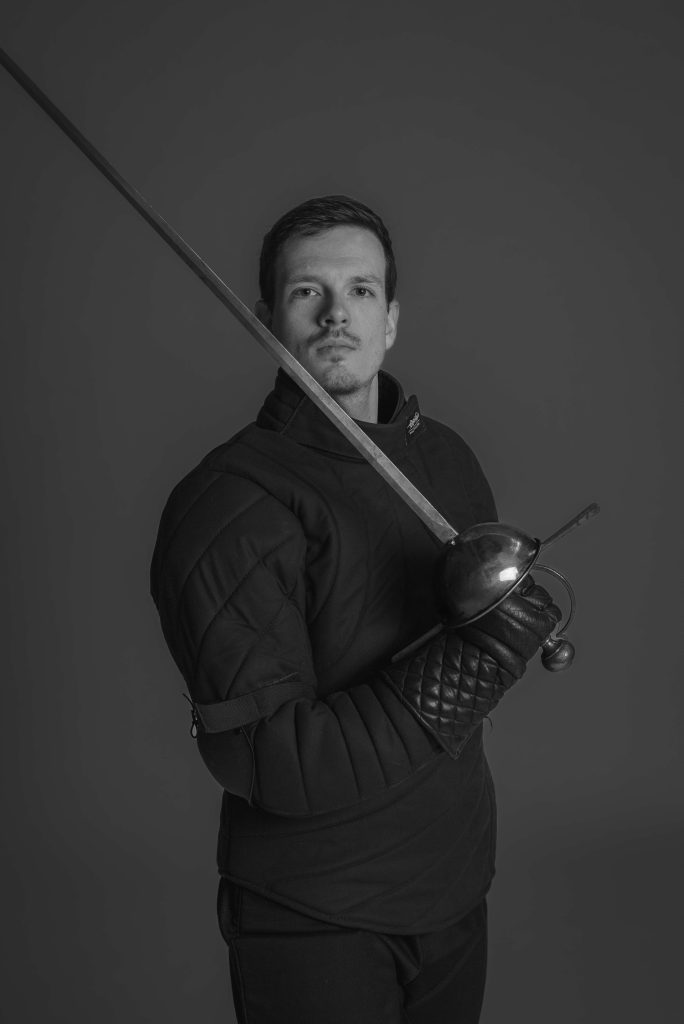 Romain Deltour
Treasurer/Master of Coins
Romain has been a member of the Via Bruxellensis club for more than a year, and practising HEMA since 2020. He is the treasurer of the association and ensures that it has the means to achieve its ambitions. Amateur of long sword (Liechtenauer) and sabre (Roworth and Angelo), he practices light sparring and refereeing and is passionate about welcoming new members and their integration into the association.
---
CLUB EQUIPMENT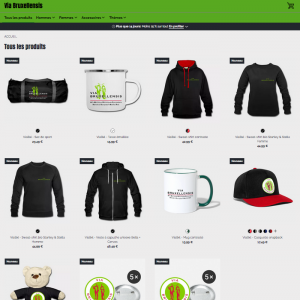 We do have a Spreadshirt where everyone can find goodies about the club as well as some fun creations.
Please have a look at it!
---
Your first club shirt is offered with your first subscription.
Should you want additional ones, they're available at 20 euros each.
---
You can ornate your multiple belongings with a beautiful emdroidered patch with the club logo (and backed with extra lining for reinforcement).
They're available for 5 Euros.