Classes for "adults" (from 15 years old)
Schedule
Tuesday evenings – 19h00 to 21h00 – Extra Time until 21h30
Thursday evenings – 19h30 to 21h30 – Extra Time until 22h00
All year long, including during vacations and holidays – no rest for the warriors.
Classes topic
Among the practices in Historical European Martials Arts, wielding the medieval sword might be the most iconic one.
From all the medieval fencing treatises available, we study the ones attributed to Meister Johannes Liechtenauer.
That choice sprang from the fact that already back then, his treatises were quite successful, being copied and spread many times, with additions here, text alterations there, that – by crossing the different sources – are offering quite some indsight about his art of combat (kunst des fechten).
Liechtenauer's teachings are made out of three parts, the Blossfechten (fighting without armor), the Harnischfechten (fighting with armor) and the Rossfechten (fighting on horse).
For practical and material reasons, we study the Blossfechten portion but exploration of the two other ones is possible during Workshopt Time and/or Extra Time.
Those Liechtenauer treatises were packed qith folios from other masters of the same era – even from the same brotherhood sometimes – and addressing other combat systems. Such as wrestling (Ott Jud) and dagger fighting (Martin Huntsfeld) that we also study in our classes as preparatory exercises leading to sword techniques. But this doesn't stop there as we also find sword and buckler fighting (Andre Lignitzer), the complete and complex art of the messer (Johannes Lecküchner) and many more.
To discover the subtleties and specificities of these systems, we do not hesitate at peekign to other sources of the same kind and/or the same era, such as what is taught by Fiore de'i Liberi and his famous "Flower of Battle" (Fior di Battaglia, Florius de Arte Luctandi or Flos Duellatorum).
Equipment
To be noted:
Before any investment, do not be afraid to ask to different club members about gear quality, to see what's worth or not. That will prevent you from spending money on worthless elements.
Equipment to start with
We require that you equip yourself and quickly with the following elements:
Yourself
A practice outfit both comfortable and practical
A fencing mask (ideally a HEMA dedicated model)
Light protecting gloves
Groin protector
(a bit later) A longsword simulator, HEMA compatible and made of steel
The Next Steps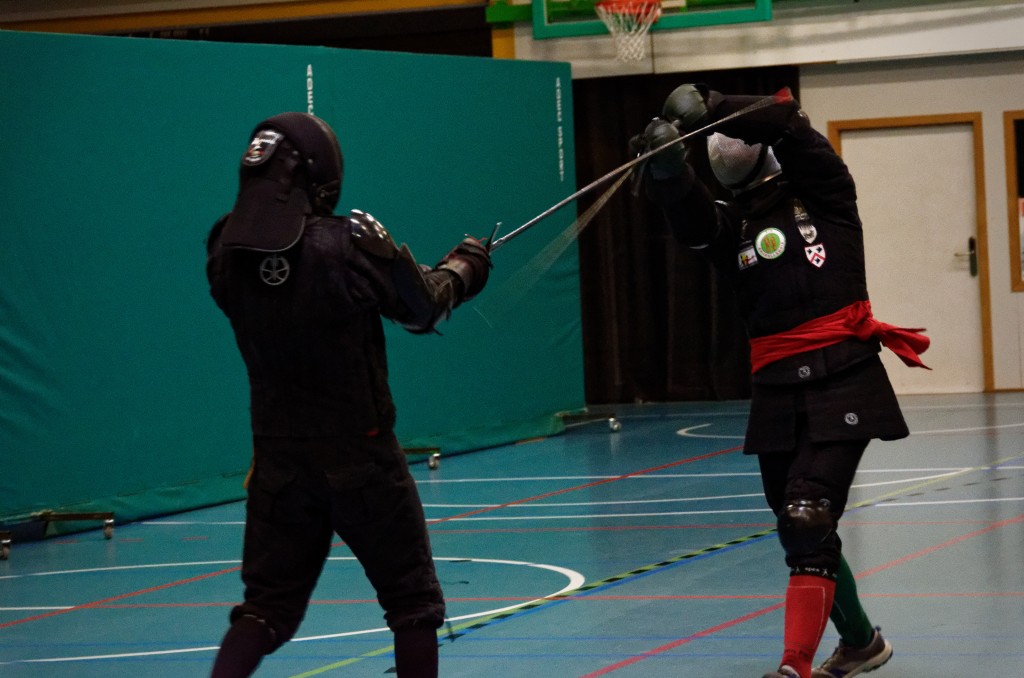 These are the elements that you will add to your kit over time (roughly sorted by priority) :
Back of head protection (with or without mask overlay)
Throat protector
Chest protector
HEMA jacket (padded + throat protection)
HEMA pants (padded)
Heavy protecting gloves
Elbows and forearms protections
Knees and shins protections
Sources
The Wiktenauer: provides first hand sources
Schola Artis Gladii et Armorum: search tool in sources
Schola Gladiatoria – Sources page: from Matt Easton's club (UK)
HS 3227a by The ARMA: presentation, transcription and translation of that document, attributed to a certain Hanko or Hans Döbringer
Instructors
Benjamin Cassart
Main instructor and former president
Former founding member of the late Brussels club Académie Talhoffer, founder of Via Bruxellensis and member of the SBSN board, has a long experience in many martial arts and fighting systems, mostly having practiced longsword during 15 years with medieval reenactment as well as black belt in shotokan karate, but also other disciplines like sport fencing (foil, saber, epee), jujitsu hakko-ryu, brazilian jujitsu, kendo, iaido, soo-bak-do. Is also practicing in other HEMA clubs (with Invirtus and Salle d'Armes Jean le Noir/Bruselas Destreza) and takes part to many HEMA workshops, national and international ones, to keep increasing the knowledge on the field, be it by widening to other areas or by deepening the understanding. Also sometimes is instructor during international events.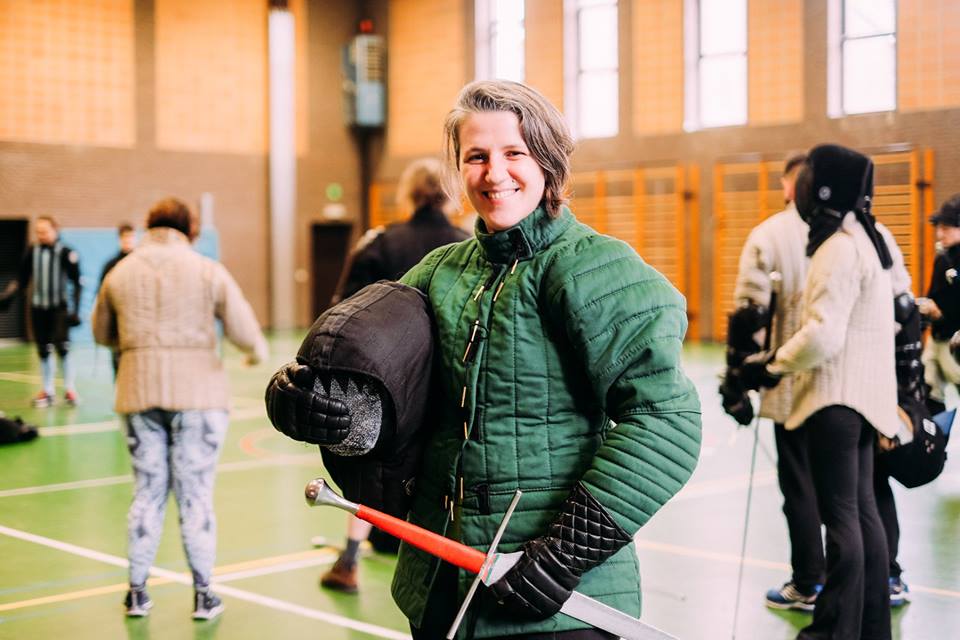 She hesitantly pushed the door of the Via Bruxellensis room in December 2017 and was hooked from the first contact with the blade. Passionate about larp, married to a capoeirist, she favours the beautiful gesture to the strike at any cost. Concerned about details and the respect of the discipline while keeping a playful and friendly approach, she is also in charge of the Via Bruxellensis Juniores courses for children from 10 to 14 years old.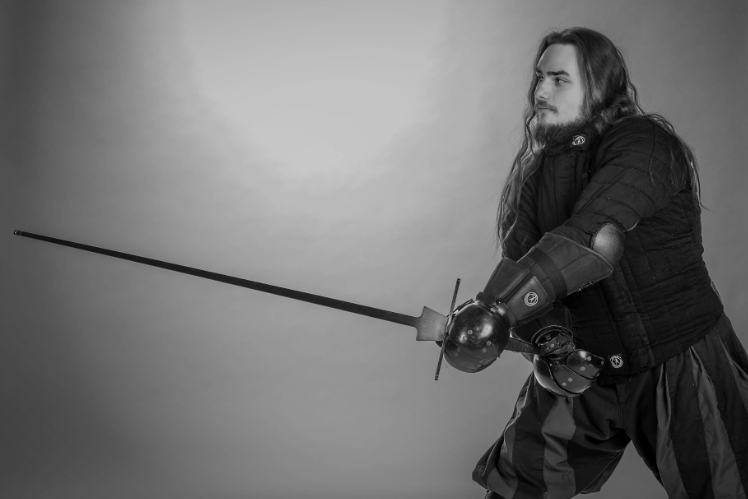 Stefan Branescu
Instructor
Member since March of 2018, he loves getting involved with all weapons and disciplines. Stefan is specialized in the competitive side of HEMA by participating in multiple tournaments as a fighter but also a referee. Though, as a massive History nerd he won't hesitate to share his thirst for knowledge and curiosity to push the rest of the club to discover other sources than Liechtenauer's Longsword. As an adept of The Art of Fencing by Joachim Meyer or The Memorial of the Practice of the Montante by Diogo Gomes de Figueyredo he loves travelling across the Early Modern Ages to discover new practices.
Hannelore Van Laer
Instructor
Member since august of 2019, Hannelore (she/he) loves getting in the weeds of the sourcework. Having done higher studies in Medieval Dutch Literature & Linguistics and Modern Translation, she now teaches the system of Liechtenauer in an organized way and enjoys discussing interpretations. She uses concepts from modern sportcoaching to improve brain, brawn and body structure. Helps with admin, knows first aid and a CPR, believes in student support and diversity.
Ressources
Acta Periodica Duellatorum: regular publication of scientific articles covering the domains of HEMA
Resources for the Historical European Martial Arts and Sports Community: articles, sources, ressources, informations
Historical Fighting Guide – Longsword usage resources: numerous links to longsword use ressources
Shops
Interpretations
Exercices & Drills