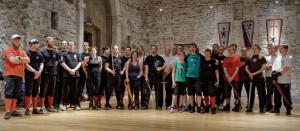 Vous trouverez ici quelques évènements à venir dans le domaine des AMHE.
You'll find here some upcoming events in the HEMA world.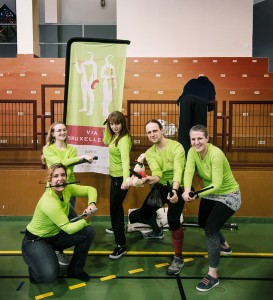 ---
Spatha Medievae – Retrouvailles (Liège – Belgium)
31 Août et 1 Septembre 2019 / 31 August and 1 September 2019

La ville de Liège met à disposition du club d'AMHE Spatha Medievae un espace pendant tout le WE pour faire des démonstrations au public et permettre aux AMHEurs de se rencontrer et de faire quelques échanges, à quelques pas de la gare des Guillemins.
The city of Liège provides a spot during the whole weekend to the HEMA club Spatha Medievae, to make demonstrations to the public and to allow HEMAists to meet and spar, a few steps away from the famous Guillemins train station.
https://www.facebook.com/events/411220399477250/
---
Initiatie Historisch Schermen en zwaardvechten by Ex Cineribus (Parkfeest Borgt – Grimbergen – Belgium)
7 et 8 Septembre 2019 / 7 and 8 September 2019

Un nouveau club d'AMHE se crée à Grimbergen, porté sur l'étude des traités allemands d'épée et bocle des 14ème et 15ème siècle. A l'occasion de ce weekend, il fournit des démonstrations et initiations pour se faire connaître du public de Grimbergen et alentours.
A new HEMA club is in the making in Grimbergen, dedicated to the study of German treatises of sword and buckler from 14th and 15th centuries. During this weekend, demonstrations and initiations will be provided to the public of Grimbergen and surroundings.
https://www.facebook.com/events/373478603338412/
---
Sparring. Sparring? Sparring! (Mechelen – Belgium)
14 Septembre 2019 / 14 September 2019

Rencontre régulière permettant aux divers pratiquants de différents clubs de se rencontrer pour quelques moments de sparring, ouvert à toutes les pratiques et armes, à tous les niveaux de maîtrise et d'équipement.
Regular encounters allowing to lots of practitionners from different clubs to meet for a few moments of sparring, open to all weapons and practices, open to all skill and equipment levels.
https://www.facebook.com/events/481711342378034/
---
23ème Fêtes Médiévales de Forest (Abbaye de Forest place Saint Denis – Forest – Belgium)
20-21-22 Septembre 2019 / 20-21-22 September 2019

Une opportunité de rencontrer notre club en animation et démonstration lors de la fête médiévale.
An opportunity to meet our club doing animation and demonstration during the medieval event.
https://www.facebook.com/events/346044129373541/
---
7th Belgian Buckler Quarterly (BBQ) (Kontich – Belgium)
21 Septembre 2019 / 21 September 2019

Une journée dédiée à l'étude et la pratique de l'épée et bocle, que ce soit dans un système allemand ou dans un système italien, avec deux ateliers et un moment sparring.
A full day dedicated to the study of sword and buckler, be it german style or italian styel, with two workshops and a sparring session.
https://www.facebook.com/events/2835140573195178/
---
Dussack Festival (V.U.B. – Brussels – Belgium)
5 Octobre 2019 / 5 October 2019

Le club HSK De Vagant entame sa seconde année avec un festival du Dussack où deux instructeurs invités vont vous initier aux joies de ces petits sabres.
The club HSK De Vagant starts its second year with a dussack festival, where two guest instructors will introduce you to the joys of these little sabres.
https://www.facebook.com/events/318651555589449/
---
Longsword Masterclass by Thomas Lobo at HVN (Oegstgeest – the Netherlands)
5 Octobre 2019 / 5 October 2019

L'instructeur Thomas Lobo du club Warrior Box vient aux Pays Bas pour donner une journée d'ateliers de haut niveau à l'épée longue. Il donnera deux ateliers et du temps sera réservé pour un peu de sparring libre ensuite.
Thomas Lobo from the Warrior Box will come to the Netherlands for a one-day Longsword Masterclass. He will teach two workshops and there will be time for some free sparring afterwards.
https://www.facebook.com/events/363774621180859/
---
AMHE IDF (L'Isle Adam – around Paris – France)
20-21 Octobre 2019 / 20-21 October 2019

Grand évènement français avec deux jours de stage, un grand nombre de pratiques présentées, différents instructeurs, de nombreux participants.
Big French event with two days of workshops, a large array of practices, lots of different instructors, numeroux participants.
https://osm1453.wixsite.com/creatif/amhe-idf
---