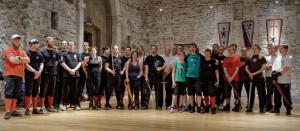 Vous trouverez ici quelques évènements à venir dans le domaine des AMHE.
You'll find here some upcoming events in the HEMA world.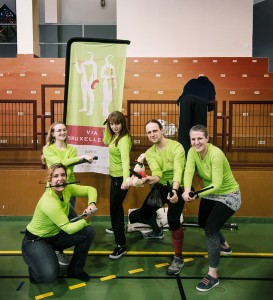 ---
Sparring. Sparring? Sparring! (Mechelen – Belgium)
22 Juin 2019 / 22 June 2019

Rencontre régulière permettant aux divers pratiquants de différents clubs de se rencontrer pour quelques moments de sparring, ouvert à toutes les pratiques et armes, à tous les niveaux de maîtrise et d'équipement.
Regular encounters allowing to lots of practitionners from different clubs to meet for a few moments of sparring, open to all weapons and practices, open to all skill and equipment levels.
https://www.facebook.com/events/315301979359791/
---
Fiore's system: getting a quick hold of it (and of your opponent too) by Dario « Thokk » Magnani (Notre Dame des Champs – Uccle – Brussels – Belgium)
24 Août 2019 / 24 August 2019

Via Bruxellensis organise son premier évènement, un stage AMHE d'une journée sur Fiore dei Liberi, par Dario « Thokk » Magnani
Via Bruxellensis organizes its first event, a day of HEMA workshop on Fiore dei Liberi, by Dario « Thokk » Magnani
https://www.facebook.com/events/2193595504060763/
Formulaire d'inscription – Registration form
---
23ème Fêtes Médiévales de Forest (Abbaye de Forest place Saint Denis – Forest – Belgium)
20-21-22 Septembre 2019 / 20-21-22 September 2019

Une opportunité de rencontrer notre club en animation et démonstration lors de la fête médiévale.
An opportunity to meet our club doing animation and demonstration during the medieval event.
https://www.facebook.com/events/346044129373541/
---
7th Belgian Buckler Quarterly (BBQ) (Kontich – Belgium)
21 Septembre 2019 / 21 September 2019

Une journée dédiée à l'étude et la pratique de l'épée et bocle, que ce soit dans un système allemand ou dans un système italien, avec deux ateliers et un moment sparring.
A full day dedicated to the study of sword and buckler, be it german style or italian styel, with two workshops and a sparring session.
https://www.facebook.com/events/2835140573195178/
---
AMHE IDF (L'Isle Adam – around Paris – France)
20-21 Octobre 2019 / 20-21 October 2019

Grand évènement français avec deux jours de stage, un grand nombre de pratiques présentées, différents instructeurs, de nombreux participants.
Big French event with two days of workshops, a large array of practices, lots of different instructors, numeroux participants.
https://osm1453.wixsite.com/creatif/amhe-idf
---