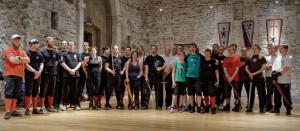 Vous trouverez ici quelques évènements à venir dans le domaine des AMHE.
You'll find here some upcoming events in the HEMA world.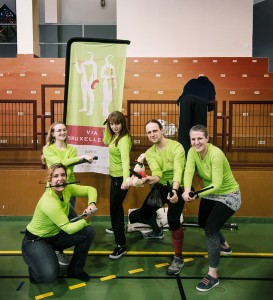 ---
Le Crepuscule De L'automne (Fallais – Belgium)
15 Novembre 2019 / 15 November 2019
Organisé par le club récemment créé Meyer May Rise: Rencontre sportive ouverte autour de notre ruleset, inspiré de la convention des joueurs d'épée, dans notre salle au hall omnisports de Fallais ( salle à l'étage ). Tout niveaux acceptés, évidement.
Organized by the recently created club Meyer May Rise: Open sports meeting around our ruleset, based on the French « Convention des Joueurs d'Epée » (Convention of the Swords Players), in our sports hall in Fallais (upstairs). All level accepted, obviously.
https://www.facebook.com/events/2475268316075478/
---
Armez et Fervestis – Introduction au Harnissfechten (Liège – Belgium)
7 Décembre 2019 / 7 December 2019
Journée d'initiation aux joies du combat en armure, sur base des sources de l'époque, organisée par Spatha Medievae.
A day to get initated to the joys of fighting in armor, based on period sources, organized by Spatha Medievae.
https://www.facebook.com/events/791382287946250/
---
Sparring. Sparring? Sparring! (Mechelen – Belgium)
14 Décembre 2019 / 14 December 2019

Rencontre régulière permettant aux divers pratiquants de différents clubs de se rencontrer pour quelques moments de sparring, ouvert à toutes les pratiques et armes, à tous les niveaux de maîtrise et d'équipement.
Regular encounters allowing to lots of practitionners from different clubs to meet for a few moments of sparring, open to all weapons and practices, open to all skill and equipment levels.
https://www.facebook.com/events/419362145331958/
---
Belgian Beginners Competition (BBC) (Gent – Belgium)
21 Décembre 2019 / 21 December 2019
Tournoi pour se tester, destiné principalement à fournir de l'expérience aux combattants et juges/arbitres débutants.
Test tournament, mainly focused on providing experience for beginning fighters and beginning judges and referees.
https://www.facebook.com/events/2300339080092700/
---
Winter Messer Meeting (Utrecht – the Netherlands)
11-12 Janvier 2020 / 11-12 January 2020
Rassemblement international de pratiquant du messer. Un weekend de jeux libres, d'ateliers, d'échanges d'idées et de jeux au messer. Voilà ce que l'on obtient en rassemblant des spécialistes du langes messer dans une grande salle!
International gathering of messer fencers. One weekend of freeplay, workshops, exchange of ideas and messer games. Here is where you get specialists of the langes messer all in one room!
https://www.facebook.com/events/465604747360900/
---
Dreynevent (Wien – Austria)
7-8-9 Février 2020 / 7-8-9 February 2020
Grand évènement autrichien avec deux jours de stage, un grand nombre de pratiques présentées, différents instructeurs, de nombreux participants.
Big Austrian event with two days of workshops, a large array of practices, lots of different instructors, numeroux participants.
---