Information about training sessions

Training sessions occur twice a week, each and every Tuesday evening from 19h to 21h (optional to 21h30) and each and every Thursday evening from 20h to 22h (optional to 22h30), even during vacations and holidays. Each training session is followed, for those willing to go on, by 30 minutes of « Extra Time » for more practice time, or simply to discuss together.

From September to June (included), the training is given in a sport hall of the school Notre Dame des Champs, 143 rue Edith Cavell – 1180 Uccle (close to many buses and trams). View of the school entrance along with its location on the map.
In July and August, the training is given in Jubilee Park (Parc du Cinquantenaire), close to the « Medieval Tower », located in front of 41 avenue des Nerviens – 1040 Etterbeek (close to the subway, trams and buses). View of the tower as seen from the street along with its location on the map.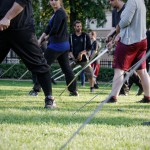 Every person interested and curious about our club is welcome to give it a try for one or two sessions, we have spare equipment to lend for newcomers.
The minimum gear you must bring for a starter is a comfortable sports outfit.
If after the two free sessions you want to go further, the subscription fees are 180 Euros for a whole year, everything included (insurance, training hall, etc.). The amount can be paid cash or can be wired to the club's account: Via Bruxellensis – BE30 0836 7699 2911 .
Taking part to our training sessions implies that the practitioner will follow the club's charter: Charter of the practitioner.
To be noted, the training sessions are given in French and in English at the same time.
---
Required equipment
In our longsword practice, here is the list of equipment you'll often need:
Yourself
Comfortable sports outfit
Fencing mask, for most of the uses, a simple 350N/Class 1 mask will perfectly do the job
Good pair of gloves
Longsword simulator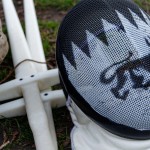 For all the equipment mentioned, it is preferable to discuss about it at the club before buying, to be able to see and to try the different options available.
About the longsword simulator, we can find some made of wood, some made of plastic/nylon and some made out of steel. Our preference is to work with steel. As a simulator, the sword will not be sharp. It has to be noted that not all the steel swords available on the market will serve optimally the purpose of being used for HEMA, be it due to the weight, the balance or the flexibility of the blade. The choice of a blade designed to be used specifically for HEMA, with a secured tip and enough flexibility in the thrust is the best.
Not mandatory but highly recommended:
Cup, especially for men but also useful for women
Fencing chest protector (made of plastic), as well for women and for men
Back of the head/back of the neck protector to add to the fencing mask
Throat protector
With the time, for a practice including heavier sparring, the trainee can add to the equipment elements such as:
Fencing jacket designed for HEMA or gambeson (medieval style or more recent)
Fencing pants designed for HEMA
Protective gloves providing a sturdier protection
Rigid knees and elbows protectors
Rigid forearm guards and shin guards
---
Shops where you can acquire equipment
Nowadays, many shops offer specific equipment for HEMA practitioners.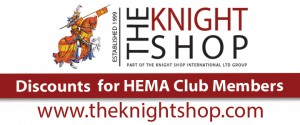 As a club, we have discounts on some items in The Knight Shop and we often group orders to reduce the shipping costs per capita. For instance we can have a discount of 25% onthe gear from the brands Red Dragon and Rawling but also on many other items too. In the HEMA tab, there is a specific page HEMA Club Member Discount providing a complete list of the discounted items for the club. Don't hesitate to contact us to know the exact amount of the reductions and to organise grouped orders.
If you wanna buy from the SPES brandl, the best place to do so is directly to the provider, here.
Other interesting equipments, especially protections, are available on Faits d'Armes.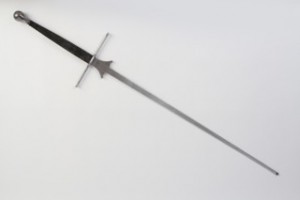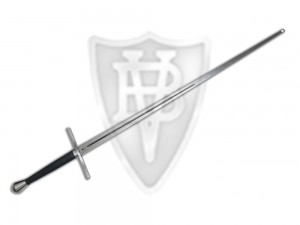 Let's talk about weapons, now. We recommend many blacksmiths able to provide swords compatible with our practice at a decent price.
Viktor Berbekucz offers many models of swords, such as the HEMA sword, one and half hand that I appreciate a lot but he also has different models of Feder.
Jiri Krondak – Fabri Armorum also has a dedicated production oriented towards HEMA including different models of swords and some protections.
Slightly above in price but also in quality, there is the now famous Peter Regenyei whose swords equip a lot of european practitioners or go to Black Armoury who is selling weapons made by Viktor Berbekucz according to their specifications, they're made of excellent quality too.
Other bladesmiths:
Here is a list of examples of sword models fitting the needs of HEMA practice:
Preferably, before any buying, don't hesitate to come and try the models already available at the club and to ask questions about the conformity of the model you desire and the needs of our practice.
For nylon/synthetic simulators, that can be used although we clearly prefer steel, the two recommended brands are the Rawlings Wasters from The Knight Shop or the wasters from Black Fencer.
Other shops offering some items and equipment that can be used in HEMA are: