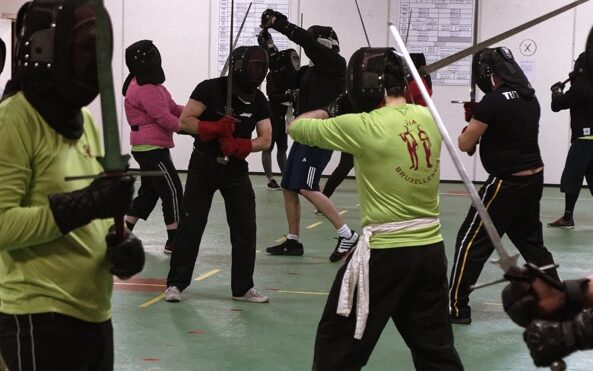 (English version below)
Nouveaux protocoles et nouvelles règles – à partir du 01 Juillet 2021 – Retour à la (quasi) normale!
L'évolution de la situation sanitaire et des régulations l'encadrant nous permet de fournir une évolution très favorable au déroulement de nos cours.
Nous pouvons reprendre les cours assez normalement:
Les cours de boxe/savate/lutte/canne du lundi reprennent aux horaires normaux, revenez explorer les joies de la fin du 19ème siècle!
Les cours d'épée longue du mardi et du jeudi vont reprendre à leur horaire « complet » de 2h de pratique, avec donc le retour du « Workshop Time » qui permet d'explorer ce que l'on veut comme pratiques et types d'AMHE. Il n'y a par contre pas (encore) le retour de l' »Extra Time »
Lors de la pratique des cours, tous les types d'interactions sont possibles, y compris la dague, la lutte, la lutte à l'épée, les sparrings, etc. (n'oubliez pas vos équipements de protection)
Nous sommes à nouveau ouverts aux personnes extérieures au club, les personnes non encore membres et voulant découvrir les AMHE sont désormais acceptées et les bienvenues! \o/\o/\o/\o/
A noter que tout n'est pas encore « comme avant », il y a encore des limites et contraintes:
Si on est malade ou on suspecte d'être malade ou d'avoir été dans une situation de contact à risque ==> ON NE VIENT PAS
Toute personne qui vient devra s'inscrire pour un tracking de contact au cas où un cas serait avéré dans le groupe des pratiquant.e.s. Si vous n'êtes pas à l'aise avec le tracking et l'usage de vos informations, vous n'êtes pas autorisé.e à pratiquer
Avant que le cours ne commence, les personnes gardent leur masque COVID et le remettent dès la fin du cours. De plus, il reste important de garder ses distances physiques quand le rapprochement n'est pas requis par les exercices
Les vestiaires ne permettent pas de respecter les protocoles sanitaires donc il ne pourront être employés. Il faut venir déjà habillé.e
Les entraînements se feront en extérieur par défaut. Nous avons néanmoins la possibilité de nous entraîner en intérieur si l'on y est forcés (par exemple si le temps est vraiment pourri), auquel cas ce sera fait avec force aération
En plus de tout cela, l'instructrice/instructeur a toujours autorité à veiller à votre sécurité. Si une consigne est donnée pour raisons sanitaires, elle doit être respectée. Sinon vous pouvez être éjecté.e du cours (comme pour les questions de sécurité usuelle, cela reste le pouvoir et la responsabilité de l'instructrice/instructeur)
---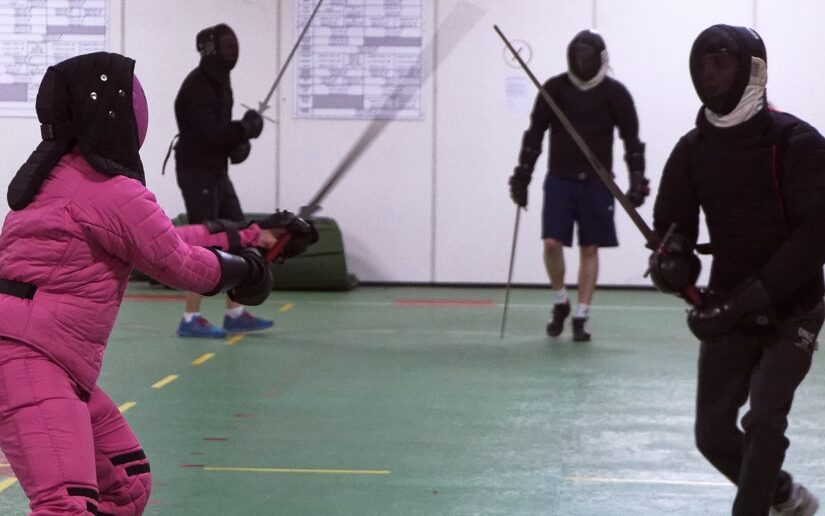 New protocols and new rules – from 01 July 2021 on – Back to (nearly) normal!
The evolution of the sanitary situation and of the regulations framing it are allowing us to provide you a really positive evolution of the course of our classes.
We can resume classes to a quite normal way:
Boxing/savate/wrestling/cane classes of Mondays are resuming back to normal schedule, feel free to come back and explore the joys of 19th century HEMA!
Longsword classes are back to the full schedule now (Tuesdays and Thursdays) with 2h of training, with the good old « Workshop Time » making its come back, allowing to explore all the different aspects and systems of HEMA. The only part that is still held back is the « Extra Time »
During the practice, all types of interactions are possible, including dagger, wrestling, grappling (with or without sword), sparring, etc. (don't forget your protective equipment)
We're open to newcomers again so if you were not yet member and wanted to discover HEMA and maybe join our club, it will now be accepted and you're welcome to try! \o/\o/\o/\o/
It's important to keep in mind that it's still not all « as before », there are still some constraints and limits:
If you're sick or suspect to be or might have been in a case of risky contact situation ==> YOU DO NOT COME
Anyone attending a class will have to write down some infos for tracking purpose, allowing to warn anyone concerned should any COVID case be notified among our practitionners. If you don't feel like sharing this tracking info then you're not allowed to practice
Before the class has started, everyone keeps on wearing their COVID masks and has to put it back as soon as the class is over. Also it's important to maintain physical distance when proximity is not required by the exercise
Changing rooms are not allowing us to respect the health protocols so they are not allowed. You must come already dressed for the practice
Trainings are on the outside by default as it is safer. We have the possibility to train inside if needed (like, with really crappy weather). In that case we'll train inside with all doors and windows open for air renewal
On top of these rules, the instructor always has the responsibility to watch over your safety and has authority to enforce it. Should any additional rule or request be made, please comply with it. If you don't, the instructor has the authority to expell you from the class (as it is for classical safety as well, I'm just re-stating the usual role, responsibility and authority of the instructors)